In this post, I am going to give you a complete detail about the Yoruba traditional marriage list and the introduction list in Yoruba land. Like many other tribes in Nigeria, the people of Yoruba take traditional marriage rites seriously and shows much enthusiasm towards it.
Like any other traditional marriage in Nigeria or Africa at large, a young man (groom) who wants to marry a lady (bride) is supposed to seek the total concern from her parents and also find out what he is supposed to get concerning the traditional marriage engagement list.
Getting all the items stated on a Yoruba traditional marriage engagement list makes the marriage a fully considered one.
A Yoruba man who is ready to marry is supposed to engage in several activities among which is the provision of items on the marriage list.
Nigerians, particularly the people of Yoruba see this part of marriage a vital one and an important occasion to bring two families together.
---
This post is intended to give a groom who is preparing to marry a Yoruba bride:
Information on Yoruba bride price list
Idea of how much he is supposed to spend
And many more.
I hope this post helps you prepare your mind and your budget as you prepare to marry that beautiful Yoruba bride of yours.
---
Yoruba Traditional Marriage List (Eru Iyawo List)
After everything has been agreed, necessary customary rites in the Yoruba's way has to be done. The groom is asked to bring items on the traditional engagement list to the bride. The Eru Iyawo List in 2021 includes:

A bible

An engagement ring

A suitcase with clothes for the lady

42 big tubers of yam

25 litres of palm oil

Honey

Umbrella

Kolanut

Bitter Kola

Alligator pepper

Sugar cane

Maize cake

Different types of fruits

1 bag Rice

She goat

Traditional cloths.

Salt

Bottled water

Wine

Soft drinks

Cash gifts (bride price and random cash gifts)
---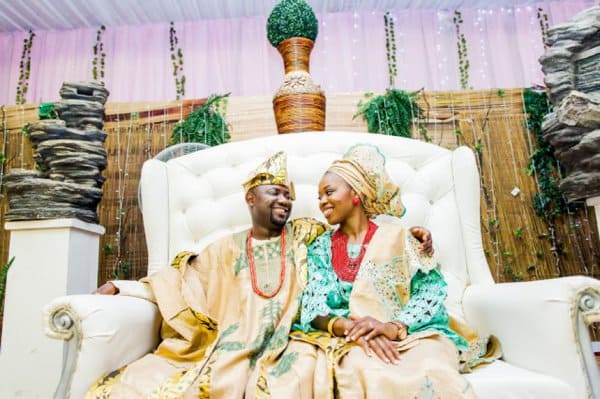 Things to note
The quantity of the items in the engagement list above may differ depending on the groom. Some groom may present more, others may present less. This depends entirely on the financial strength of him.
The rest of cash may be presented randomly in bits in the course of the ceremony. This money could be used for the following
To seek mother's consent

To seek father's consent

To unveil the bride

To open the engagement list item
There are no specified amounts to be spend on the random cash gifts. However, an amount between N10,000 and N15,000 is usually spent.
Also take note that, engagement list varies from one place to the other. Although this is a typical Yoruba traditional engagement list, it may still vary among some Yoruba villages. However, majority of the items listed above may still be present in the list from most villages.
---
All questions answered
In this part, we answer most of the questions people ask concerning Yoruba marriage rites. If your questions remains unanswered, leave a comment below. We will answer it as soon as possible.
What is Eru Iyawo?
Eru Iyawo is the Yoruba version of the bride engagement list. This above list the Eru Iyawo list in 2021.
When is a cow requested by Yoruba in-laws?
Basically, in most Yoruba traditional engagement list, it is not required of the groom to present a cow to the bride's family. However, as a way to support the bride's family to cater for the amount spent on bills, some grooms are expected to present a cow to be used for meat to serve guests and family during the occasion. This is mostly done when the bride's parents are not financially sound enough to foot all the bills for the guests.
What is the bride price in Yoruba marriage?
According to our sources, we found out that the bride price is Five Thousand Naira (N5,000) in most Yoruba villages
Can money be accepted in place of the items listed above?
The answer is yes. In most instances items that could not be bought can be paid in cash by the groom. We reached out and spoke with few Yoruba women about how it is done and this was the response. It is solely right for the groom to pay cash for the value of an item that he was unable to get.
---
Conclusion
If this article has really helped you, leave a comment below and share it with family and friends. That actually helps and motivates us to write more.
This is our exclusive list for Yoruba traditional marriage ceremony. If there was a key point omitted, do alert us by leaving a comment behind.
If you have already done your ceremony, is there anything in the list above that differs from your list. Let us know.
Thanks for visiting Nigeria Insider.