Nigeria insider brings you Lil Kesh's net worth. A lot of his fans have wondered how much Lil Kesh is worth. Over the years, Lil Kesh has been able to accumulate wealth through music. We are going to give you the details of Kesh's net worth: source of income, businesses, lifestyle, family, cars, and many more.
Like other Nigerian musicians, Lil Kesh makes his money from performances, endorsement deals, ambassadorial deals, and investment in music, collaborations, streams, video views and several other sources. Our criteria for ranking net worth is closely related to that of Forbes.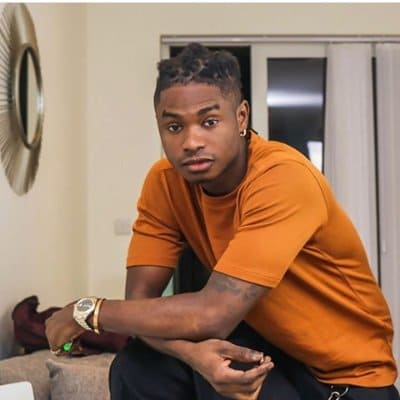 Who is Lil Kesh?
Born 14th March, 2000 Keshinro Ololade Ifeanyi Kenechuwu, professionally and popularly known as Lik Kesh is a Nigerian singer, rapper and songwriter.
Kesh was born and bred in Bariga, a suburb of Lagos State, Nigeria.
Music Career
Lil Kesh music career began in his neighborhood when he rapped among his colleagues in Bariga. He released a single titled "Lyrically", which gained massive recognition in universities in Nigeria. Fast forward, Kesh was recognized and nominated for the Best New Act at the 2015 Nigeria Entertainment Awards.
Lil Kesh gained public appeal and massive recognition after the realease of his hit single "Shoki" in 2014. This song gained massive airplay and fame in Nigeria. The song was remixed and featured YBNL Boss Olamide and Davido. The Shoki song rose him to fame and since then has become a top rated artist in Nigeria.
His style of music is similar to that of Olamide due to his affiliation to Olamide's record label. Lil Kesh is signed under his own record label called YAGI Records (an acronym for "Young And Getting it").
He enrolled at the University of Ibadan where he was studying linguistics but later dropped out to concentrate fully on music.
Lik Kesh Net Worth 2021
He is estimated to be worth $1.8 M as of 2021.
Kesh's Source of Income and endorsements
How does Lil Kesh make his money? As a professional and full time musician, Kesh makes about 80% of his income from music and music business. He makes money from music business via the following avenues:
Record label business and management

Spotify, YouTube and other online streams

Paid subscriptions

Performances and tours

Local and international collaborations

Endorsement deals

Ambassadorial deals

Album sales

Music and record sales

Song writing
Kesh's songs have had massive airplay majorly in the Nigeria which earns him royalties. He's also had international recognition from countries such as Ghana, Kenya, South Africa, amongst others.
He's had collaborations with top musicians from Africa such as Davido, Olamide, amongst others. Collaborations is also a means by which Kesh makes income.
Recognitions, awards and accolades
Due to his massive performance in the music industry, he's been greatly recognized in both local and international media. See awards Lil Kesh has been nominated for.
Lil Kesh Businesses
Aside doing active music, the musician also has taste for music business. He established his own record label called YAGI Records. Like other record labels, YAGI records invest in young and upcoming talents with promising future in the music industry. Kesh makes proceeds from this venture.
Lil Kesh's Assets
As a professional musician, Kesh's albums, songs and records are his major assets. He lives in a plush mansion in Nigeria. He is also known to love fashion and luxurious lifestyle. Kesh's net worth has made it possible for him to live his kind of life.
Awards
Lil Kesh got nominated for the 2015 Nigeria Entertainment Awards.
Family and Lifestyle
Much is not known about the musician's relationship life. As at the time of writing this article, Lil Kesh is dating Tare Deinne. The gorgeous couple has been seen together for a couple of months now. Lil Kesh recently took to instagram to show off his hot new love and she is absolute gorgeous.
Source: Nigeria insider