We are going to show you how to successfully cancel an order on Jumia Online shop in in Nigeria.
Jumia is an online store in Nigeria known for its good customer service reputation of making quality products or items available at your doorstep.
Over the years, Jumia has been known to provide items ranging from clothes, electronics, games to food even at discount offers. And this is why it is an online store everyone can rely on for affordable items.
How about situations where you're no longer interested in a product you ordered? Or in the case of a rethink on the cost of items, how do we go about cancelling our order on Jumia?
Please read the next few paragraphs carefully for it will be focusing on that.
When you buy from Jumia, you can choose any of these payment methods to purchase your items;
Pay on Delivery

Jumia pay

Debit card.
After this, Jumia starts processing the successful delivery of your items to your doorstep.
But then, on a second thought, you are not sure about the quality or you may think that you are being overcharged or maybe it's even the wrong measurement or size you picked.
In that case, it would be best to cancel your order. This is what I'm going to help you within the next few points.
Steps to Cancelling an Order on Jumia
Send an email to Jumia customer service ([email protected]) or call their customer care service (check their website to confirm).
After this is done, the customer care service will see to it that your order is cancelled and that your money is refunded if you paid through Jumia pay.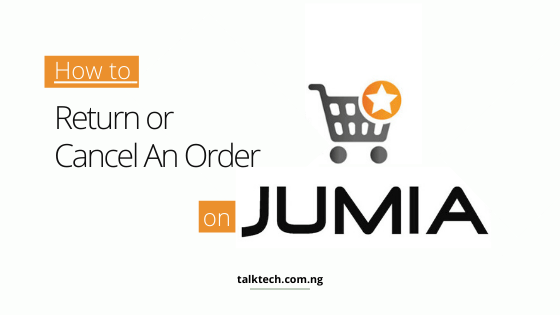 In a case where the items are with you but you are not satisfied maybe because it doesn't look like what you saw on their website, you can initiate a return process form on your Jumia personal account.
Pack the product according to the special return conditions on their website including all accessories (tags, free gifts etc.)  that came alongside and then arrange a pickup time with the customer service or drop it off at a station for free.
Watch Video Of How To Cancel Order On Jumia Nigeria
Jumia Nigeria Customer Care Lines
If you have difficulty placing your order, please call us on the following numbers below;
01-2772367 & 01-8883300
You can also write to Jumia Nigeria via: jumia.com.ng/sp-contact
This is how simple it is — to cancel an order on Jumia Nigeria. If this post was helpful to you, please leave a comment and also subscribe to our push notification for everyday updates.
All Questions Answered For How To Cancel Order On Jumia Nigeria
Can I cancel my order?
Yes, Jumia Nigeria allows you to cancel your order if it is in waiting to be shipped status. Please note that orders in shipped status cannot be cancelled. Kindly reject delivery once you are contacted by their delivery agent. For orders on the delivered status, you can create a return request from your account.
How long does it take for jumia to refund money?
Once Jumia Nigeria receive your returned item, they will inspect it and process your refund within 10 business days into your JumiaPay wallet or payment method.
My order was prepaid, how will I get a refund?
If you cancel your order online, you will receive a refund in your JumiaPay wallet within 24hours. If you reject the delivery of the order, your refund will be processed as soon as the order is updated to the delivery failed within 48 hours.
Source: Nigeria Insider